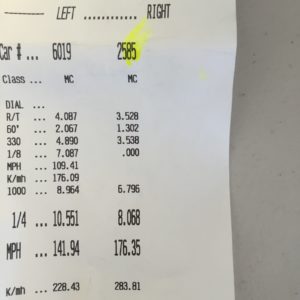 8.068 @ 176.35 with a 1.302 second 60 foot.
Awesome work!  It looks like Rob must have hit a bee during the 60 foot, otherwise he'd have hit that elusive sub 1.30 and oh-so-close to a 7 second pass.  Another car a few passes earlier had taken out the half-track timing equipment, so we don't have any info on how JUN-II did to half-track on that pass.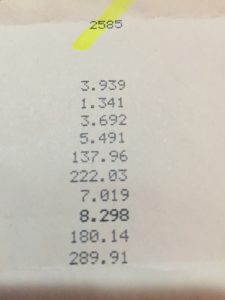 8.298 @ 180.14 mph test pass done earlier in the day, but sadly they never got to push JUN-II as hard as planned, because even though the front and rear half-shafts it shat out were quickly replaced, the event organisers simply ran out of time to allow for some late grudge passes.  The MPH is nice, though…  🙂
Rob and I wanted to extend a huge "Thank you" to the boys at Croydon Racing Developments for all their hard work and effort throughout the weekend and the lead-up preparation.  Thanks a heap for all the dedication guys – you made an overweight (1700Kg plus) street registered and driven road car, that is running drag radials with E85 pump fuel, to pull consistant sub 1.35 second 60 foot times with 175+ mph passes.