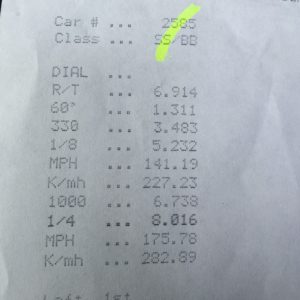 A pass from earlier in the day today.  The track prep leaves a lot to be desired, as evidenced by the 1.31+ second 60 foots its been pulling.
Rob and the boys are trying very hard to get that elusive 7 second pass, at least the car is consistent, so even the subtlest changes to its setup are obvious in the time slips.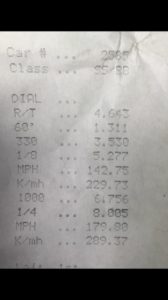 The best pass of the day was an 8.005 @ 179.80 which is pretty much Rob hitting a mosquito on the run, I think.  🙂
We have no idea how many runs the car has done in total now, but it's been totally reliable and it's a testament to the engineering effort that's gone into building it.
More to come tomorrow, all credit to the boys at CRD for all of their efforts – and to Rob who's been keeping it running straight!